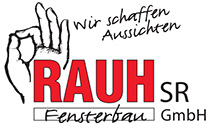 Everything from one source
The special window systems based on wood and wood-aluminium come from our own production. We purchase plastic windows from the supplier of our trust. When it comes to window construction, post-and-beam facades, passive house windows or entrance doors or winter gardens, we as a team are available to you when you need all-round support.
If you wish, we will produce special sized elements from our carpenter's workshop.


Dear Clients,
In the family run business in the third generation, Josef Rauh started to turn into the fast lane of in the field of window manufacture. I emphasize this specialisation since 2001 in the business name RAUH SR Fensterbau GmbH.
We have been active in the Franconian craft sector since 1918. From constant renewing of the technical equipment to award winning in-house developments and keeping our state-of-the-art showroom always up to date this involves just one thing: Your satisfaction and the feeling to find the optimal solution to each challenge.
To achieve this goal, we continuously invest, and we constantly work on new solutions, like Climawin, the world's first window system that is able to heat and cool using a newly developed ventilation technology and for which we were awarded the Federal Award 2013 for Outstanding Innovative Achievement in craftsmanship in 2013.
The biggest award, however, is you:
A customer seeking the perfect individual window solution has found a home with us.
Yours sincerely,

Stefan Rauh
Managing Director
Rauh SR Fensterbau GmbH